Bale management is the first step of spinning. 40% yarn quality come from bale management. Good bale management give good result in yarn manufacturing. Good mixing depends on good bale management.
Flow chart of Bale management
Raw cotton => Bale-Moisture % test => Collect sample (Every bale) => Sample testing => Classify bale => Bale law down => Mixing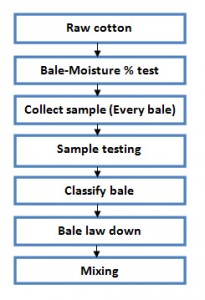 *Ideal Moisture percentage for cotton fibre 7.5% to 8.0%.
*There three testing of bale sample. HVI, AFIS and trash content
Some properties to determine of cotton bale:
Length
Strength
Fineness
Maturity
Uniformity
Rd (Reflectance/Brightness/Whiteness) + b (Yellowness)
Trash content
*According to test result same properties of bale should lay down for mixing.
Written by
A.M. Amirul Islam (Washim)
Facebook: Amirul Islam Washim
E-mail: [email protected]
If you like this article please do not forget to share on facebook and put your valuable comments.