The main material for garments making is fabric. In addition to fabric, there are lots of auxiliary material used in garments manufacturing, these materials are called trims and accessories. For your better understanding, I made a list of trims and accessories use in garments.
List of Trims and Accessories use in Garments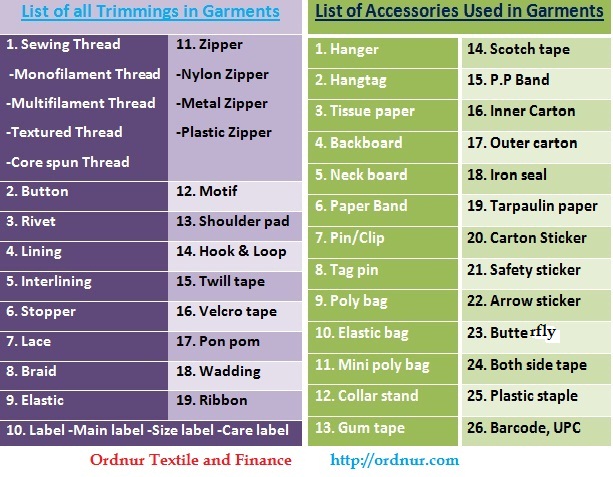 Trims are used to complete a garment, whereas accessories are used to decorate garments. Trims attached with fabric by sewing, whereas accessories make cloth more attractive.
List of All Trims in Garments
List of all Trims in Garments

1. Sewing Thread

-Monofilament Thread

-Multifilament Thread

-Textured Thread

-Core spun Thread

11. Zipper

-Nylon Zipper

-Metal Zipper

-Plastic Zipper

 

2. Button
12. Motif
3. Rivet
13. Shoulder pad
4. Lining
14. Hook & Loop
5. Interlining
15. Twill tape
6. Stopper
16. Velcro tape
7. Lace
17. Pon pom
8. Braid
18. Wadding
9. Elastic
19. Ribbon
10. Label -Main label -Size label -Care label

List of Accessories Used in Garments
List of Accessories Used in Garments

1. Hanger
14. Scotch tape
2. Hangtag
15. P.P Band
3. Tissue paper
16. Inner Carton
4. Backboard
17. Outer carton
5. Neck board
18. Iron seal
6. Paper Band
19. Tarpaulin paper
7. Pin/Clip
20. Carton Sticker
8. Tag pin
21. Safety sticker
9. Polybag
22. Arrow sticker
10. Elastic bag
23. Butterfly
11. Mini polybag
24. Both side tape
12. Collar stand
25. Plastic staple
13. Gum tape
26. Barcode, UPC
Written by
A.M. Amirul Islam (Washim)
Facebook: Amirul Islam Washim
E-mail: [email protected]
If you like this article please do not forget to share on facebook and put your valuable comment.