In the spinning mill, after making yarn the others process is called finishing. Yarn faults remove; color mix check, a right shape of yarn package and many others work done by this section. That's why it is a very important section.
Flow Chart of Spinning Finishing Section
Flow of spinning finishing section is started with Spinning=>Yarn in cop package=>Winding=>Yarn in cone package=>checking under ultraviolet light=>Conditioning (Heat seat) =>Weight determination=>Packing and finally=>Delivery to buyer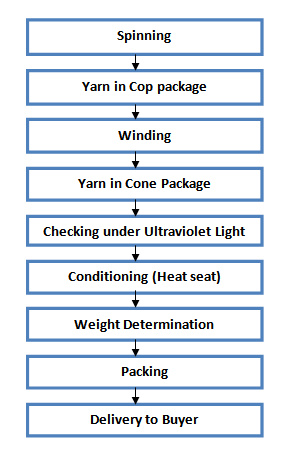 *Auto coner winding machine try to remove all kinds of yarn fault. Gives right weight and shape of yarn cone package
*Ultraviolet light use to check others color mixing, contamination in yarn
Written by
A.M. Amirul Islam (Washim)
Facebook: Amirul Islam Washim
E-mail: [email protected]
If you like this article please do not forget to share on facebook and put your valuable comments.