Non woven fabric is the fabrics have chemical, mechanical, thermal or solvent material bonding. Nonwoven fabric made from long fibers. Non-woven fabric is very necessary for the medical, industrial and different sector. Manufacturing flow chart of non woven fabric will help you to understand the process easily.
Manufacturing Flow Chart of Non Woven Fabric
The flow process of manufacturing flow chart of nonwoven fabrics is followed by preparation of the fabric=>Web formation=>Web bonding=>Drying=>Curing=>Finishing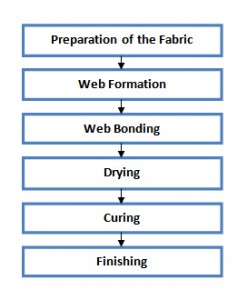 Written by
A.M. Amirul Islam (Washim)
Facebook: Amirul Islam Washim
E-mail: [email protected]
If you like this article please do not forget to share on facebook and put your valuable comments.