Important Textile and Garments Abbreviation
Those people are involved with the textile and garment sector must need to know several things related to this sector, because knowledge makes the works easier to understand. You may find there is a common practice of using the abbreviation in a different situation by the professional when they communicate both in formal and informal communication. So as a student of textile, textile engineers or any other professionals engaged with textile and garments sectors or want to be involved with this sector are required to have an idea of most important textile and garments abbreviation.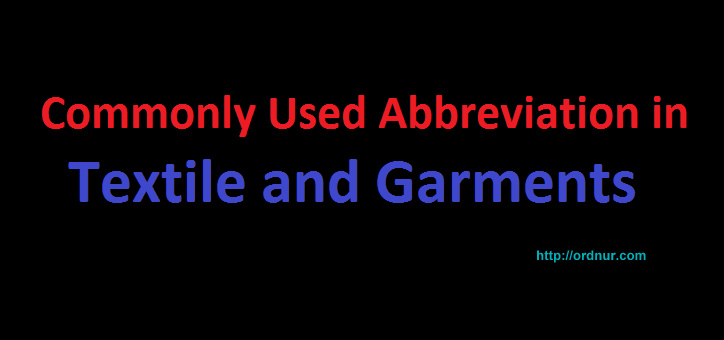 Here I am trying to share commonly used abbreviation I found in the apparel sector
AAMA-American Apparels Manufacturing Association
AAQC-American Apparels Quality control
AAMC-American Apparel Manufacturing Corporation
AQL-Acceptable Quality Level
ASQ- American Society for Quality
BGMEA-Bangladesh Garments Manufacture's and Exporter's Association
BKMEA-Bangladesh Knitwear Manufacture's and Exporter's Association
BTMC-Bangladesh Textile Mills Corporation
BTMA-Bangladesh Textile Mills Association
BJMC-Bangladesh Jute Mills Corporation
BJMA-Bangladesh Jute Mills Association
BJEC-Bangladesh Jute Export Corporation
BJCP-Bangladesh Jute Cultivation Program
BATEXPO-Bangladesh Textile Exposition
BOM- Bill of Material
BS- Bill of Sale
BS- British Standard
BSCI – Business Social Compliance Initiative
BL-Bill of Lading
CRD-Cargo Receive Date
COD-Cash on Delivery
CAD-Computer Aided Design
CAM-Computer Aided Manufacturing
CAP-Corrective Action Plan
CMT-Cost of Making with Trimmings
CM-Cost of Making/Cut and Make
CTL- Consumer Testing Laboratories
CnF-Cost and Freight
CIF-Cost Insurance and Freight
CBM-Cubic Meter
CBA-Collective Bargaining Agent
CF-Cubic Feet
CI-Commercial Invoice
CFI-Center Front Line
CT-Cycle Time
CBI-Center Back Line
CPSIA- Consumer Product Safety Improvement Act
CWO- Cash With Order
D65-Artificial Day Light
EDT – Estimated Delivery Time
EPB-Export Promotion Bureau
EMB- Embroidery
EPI – Ends Per Inch
EPZ-Export Processing Zone
ERP- Enterprise Resource Planning
ETA -Estimated Time of Arrival
ETD -Estimated Time of Departure
FBCCI- Federation of Bangladesh Chamber of Commerce and Industries
FIFO- First In First Out
FQA-Final Quality Audit
FOB-Free on Board/Freight on Board
FOA-Free on Air
FDI-Foreign Direct Investment
FTC-Federal Trade Commission
GSP-Generalized System of Preference
GAT-General Agreement on Tariff and Trade
GDP-Gross Domestic product
GM-General Manager
GNP-Gross National Product
GMT-Garments
GW- Gross Weight
ICB- Investment Corporation of Bangladesh
ICC- International Chamber of Commerce
ILO-International Labor Organization
IPC- In-Process Check
IE-Industrial engineering
IMS-Industrial Management System/Service
ISO-International Organization for Standardization
KPI – Key Performance Indicator
L/C-Letter of Credit
LCA- Letter of Credit Authorization
LDC-Least Developed Country
LIFO- Last In First Out
MIS- Management Information System
MMT-Measurement
MP- Man Power
MTD- Month to Date
NPT-Non Productive Time
NSA-No Seam Allowance
NGC-New Generation Computing
OQL – Outgoing Quality Level
OZ- Ounces
P/C – Polyester + Cotton
PI – Proforma Invoice
PP-Pre Production
PPE – Personal Protective Equipment
PPI – Picks Per Inch
PO-Production Order/Purchase Order
PSI- Pre-shipment Inspection
PM-Production Manager
PS-Production Sample
PDM-Production Development Manual
QA-Quality Assurance
QC-Quality Control
QIP- Quality Improvement Plan
QMS- Quality Management System
RMG-Ready Made Garments
RFT-Right First Time
RFD – Ready for Dyeing
RSL- Restricted Substances List
SQL-Submitted Quality Level
SMV-Standard Minute Value
SAM-Standard Allowed Minute
SKU- Stock Keeping Unit
SOP-Standard Operating Procedure
SPI- Stitch Per Inch
SRL- Sensory and Consumer Research
TAP-Total Acceptable Product
T/C – Tetron + Cotton
TNA- Time and Action Plan
TRL- Technology Readiness Level
TQM – Total Quality Management
UPC-Universal Product Code
VPR-Vendor performance Record
WTO-World Trade Organization
WH-Working Hour
WAS-Weekly Audit Schedule
XL- Extra Large
YTD- Year to Date
YY- Yielder Per Yard
Written by
A.M. Amirul Islam (Washim)
Facebook: Amirul Islam Washim
E-mail: [email protected]
If you like this article please do not forget to share on facebook and put your valuable comment.