As jute is a long staple fiber, it is produced by long staple spinning process. Naturally, jute is a long, soft, shiny vegetable fiber that can be spun into coarse strong threads. There many kinds of useful product made by jute yarn. Hope this process flow chart of jute spinning will help you to understand who jute spinning is done.
Process Flow Chart of Jute Spinning
The sequence flow of jute spinning is followed by a selection of batch=>piecing up=>Jute softening=>Piling or conditioning=>Breaker carding=>Finisher carding=>1st Drawing=>2nd Drawing=>3rd Drawing=>Spinning=>Winding (Spool or cop winding).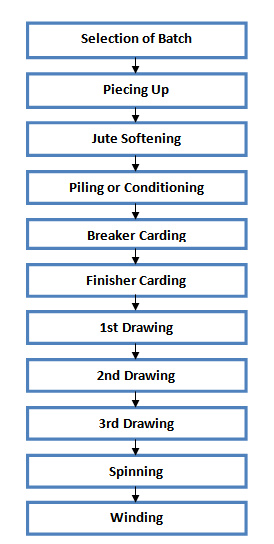 Written by
A.M. Amirul Islam (Washim)
Facebook: Amirul Islam Washim
E-mail: [email protected]
If you like this article please do not forget to share on facebook and put your valuable comments.