FlowChart of Garments Finishing Process
Flowchart of Garments Finishing Process followed by the steps of finishing input => sorting (Style, color & size wise) => thread cutting => ironing => quality inspection => insert button and other accessories => measurement check => hang tag => billboard (product code) => folding => packing => final inspection and finally => shipment of garments.
In garments it is required to go through several processes for producing garment products. There are three main processes involve in garments. These are cutting, sewing and finally finishing. But among these three finishing is very important in apparel/garments sector. Although these processes are simple enough to do but careful monitoring and quality control is ensured because quality is the first and most important priorities in garments sectors.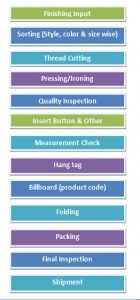 This type of process is one of the commonly used way in most of the garments but this may varies company to company in accordance with their objectives. Inspection is done every single process to ensure the quality of the garments.
Written by
A.M. Amirul Islam (Washim)
Facebook: Amirul Islam Washim
E-mail: [email protected]
If you like this article please do not forget to share on facebook and put your valuable comments.