Sewing Quality Control SOP
Sewing is the key process of apparel industry. Sewing produce full garments. Cutting section just cut garments as per marker. Finishing section mainly does decorative work, add ticketing items and ironing. As Garments construct through Sewing; sewing quality control is most important factor in Apparel industry. Sewing quality team controls all the necessary quality criteria. There are some rules for controlling quality of sewing. These standard rules are well known as sewing quality standard operating procedure (SOP). Let see, what are the basic things a sewing quality controlling SOP includes: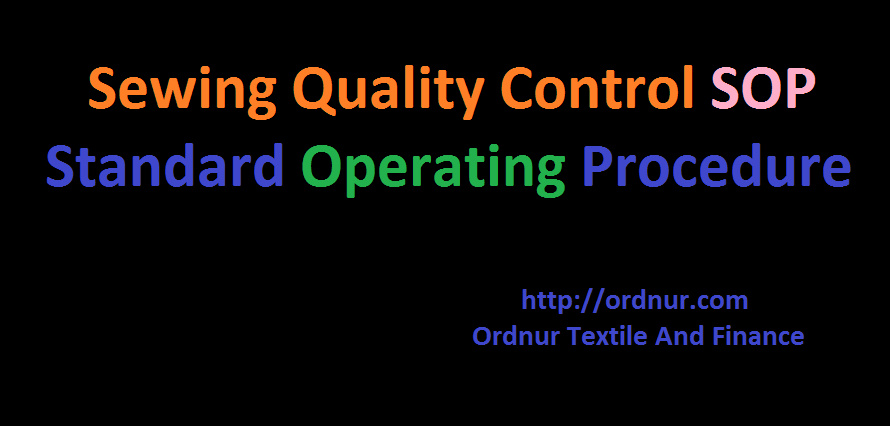 Sewing Quality Controlling Standard Operating Procedure
Here is the standard operating procedure of sewing quality control
Quality inspectors check sample and trim card of his process at the very beginning of a style. Inspector also checks SPI, thread, label and First Bundle specially and will have to take over his work from Quality controller for new style.
Inspectors know his all measurement of his check point and will have to explain clearly if anybody ask.
No defect allowed passing from QI check point and defect will be limited in one bundle in any process.
Bundle cut have to maintain as per cutting report, short and mistake bundle not to pass by QC check point.
Measurement tape hanging on every QI neck
Every in-process report to be updated, to be signed by QC and line supervisor in every hour.
Any process mistake and size mistake body go back to operation making correction.
Every running style Sample and Trim card showing operation clearly displayed on each line.
Every quality inspector following up machine cleaning before breaking up factory every day and 100% machine having oil card.
Washed Garments not allowed keeping sewing line. If there any GMTS in sewing line, Output QI and Line QC have to handover in finishing.
Every Line QC is responsible for all types of buyer requirement of his line.
You can download a common form of SOP both in Bengali and English
Written by
A.M. Amirul Islam (Washim)
Phone:+8801929643301
E-mail: [email protected]