What is woven Fabric Features of Woven Fabric
Many people looking for the answer what is woven fabric features of woven fabric, for this reason i tried to explain this in a easiest way so that you can understand it in a better way. Basically woven is produced by weaving process in loom. In manufacturing Structure of Woven fabric, it is made by interlacement of Warp and Weft yarn. Warp yarn is used in lengthwise and weft yarn in used in width-wise.
There are three structural design of woven fabric. These are
Plain weave
Twill Weave
Stain Weave
Woven fabric construction
Basic Construction of Woven fabric is used as = (Ends per inch X Picks per inch)/ (Warp count X Weft Count) X Width.
As per example,
If, EPI (Ends per inch) = 128
PPI (Picks per inch) =64
Warp Count=30
Weft Count=20
Fabric width=60
So fabric construction will be = (128X60)/ (30X20) X 60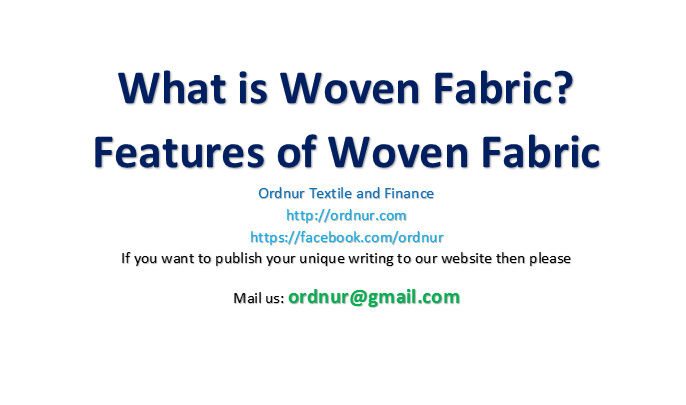 Features of Woven fabric
It is produced in Weaving
Both Warp and Weft yarn is used in Woven fabric manufacturing
It is more durable than knit and non-woven fabric
Fabric width generally 59/60/61 inch
Generally no stretch-ability in woven fabric
Generally woven fabric in made by plain, twill or stain weave.
usually smooth
Iron in medium temperature
Different types of woven fabrics
Twill Fabric
Denim
Gabardine
Georgette
Oxford Fabric
Velvet
Khadi
Dobby Fabric
Solid Fabric
Grey fabric
Muslin
Organdy
Poplin
Voile
Bedford Cord
Chiffon
Canvas
Calico
Cambric
Drill
Jamdani
Gabardine
Linen
Ninon
Flannel
Y/D Fabric
S/D Fabric
T/C Fabric
Tappet
Printed Fabric
Brushed fabric
Pocketing Fabric
Wild silk
Warp Printing
Waxed Cotton
Written by
A.M. Amirul Islam (Washim)
Phone: +8801929643301
E-mail: [email protected]