Purchase Order Sheet of Garments Manufacturing
Purchase Order sheet is simply known as PO sheet. Purchase order sheet of garments manufacturing (PO sheet) is commonly used important document for Garments Manufacturing. Basically purchase order sheet contains the information of confirmation of buyer order. To clarify some important manufacturing and technical issues buyer has to provide PO Sheet. In a PO sheet there may have information of product style, PO number, fabric cost, trims cost, garments unit cost, order quantity, shipment date, shipment destination and many others important things.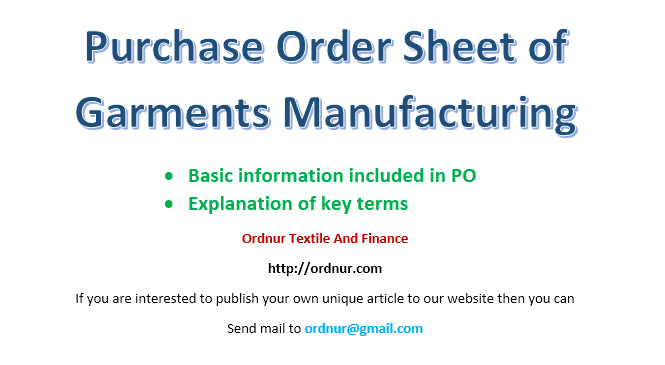 Purchase Order (PO) sheet is necessary for every department of Apparel Industry. Without PO sheet you will not be able to know about your shipment date, shipping destination, over ship or under ship tolerance, payment term. That's why this document (PO sheet) is such an important.
Information Include in Purchase Order (PO)
Considering the importance of this document I have made a list of basic information which may include in PO Sheet.
PO Number
Style/Lot Number
Order Quantity
Shipment Date
Unit Cost
Total Cost of that PO
Factory Name
Vendor Name
Shipping Address
Overseas Port reach Date
Sourcing Agent
Shipment Terms
LC Number
Fabric Supplier Name and Code
Fabric Content
EXIT COUNTRY PORT
Trims and Accessories cost
Product Category
Season
Description
Goods Description
Size wise Order Quantity
Transaction Policy
Payment Terms
Necessary Instruction
Terms and Conditions
Overship Tolerance
Undership Tolerance
Explanation of key terms of Purchase Order
Following explanation may help you to understand the key terms of PO sheet
PO Number: PO number is unique purchase order number which is fixed by buyer.
Style: As per garments category or Color buyer separated by different style name.
Season: Buyer divide a year in 3 or 4 or more seasons as per overseas weather and their consumer demand.
Unit Cost: Unit cost mean cost of single garments. It can be FOB, Cnf or C.I.F.
Goods Description: Description about goods which can be long or short. Top or Bottom wear.
Written by
A.M. Amirul Islam (Washim)
Phone: +8801929643301
E-mail: [email protected]