Rotor spinning is known also open end spinning or break spinning. Now it is become very popular spinning.
 Features of Rotor spinning process
Yarn Coarser than carded or combed yarn
Low count. Generally 20 count, highest 40s
Yarn Use for coarser fabric
Low manufacturing coast.
Produced by low graded fiber
High productivity
Less wastage percentage
No need of Simplex machine
Less labor
High capital cost
Mainly use to manufacturing Denim jeans fabric
Low price
Machine speed very high
Flow chart of Rotor yarn manufacturing/ Open end spinning process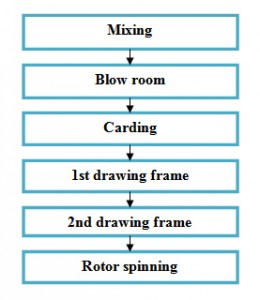 *Rotor spinning process eliminates some process of spinning.
Written by
A.M. Amirul Islam (Washim)
Facebook: Amirul Islam Washim
E-mail: [email protected]
If you like this article please do not forget to share on facebook and put your valuable comment.