Way to Increase Your Professional Communication Skill



Every day in our professional life we have communicate with internal and external parties. For each communication it is required to ensure minimum to high level of professionalism. Internal communication is not that much formal but in case of communication with external parties we always have to maintain required professionalism. For official purpose most of the professionals prefer written communication (Email) because of its higher acceptance of record keeping for future reference and formality. You need to keep in mind few sentences which is commonly used in professional communication those can increase your professional communication skill.
In this writing I am going to share 25 commonly used sentence that would help you to increase your professional communication skill in a good manner. And you can use these sentences for any kind of formal communication with other parties or to provide customer's feedback.
These Commonly Used Sentences May Help You To Increase your Professional Skill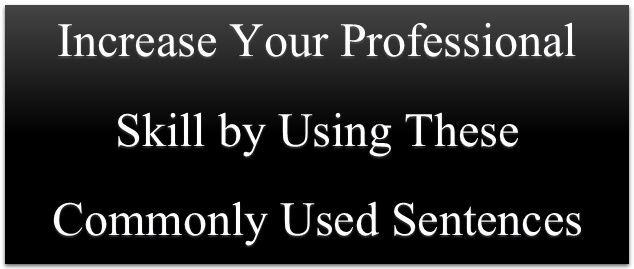 Hope you are doing well
Your kind cooperation in this regard will be highly appreciated
Please go through by below mail
I am seeking your kind approval
I would like to invite you that
Let me check with boss/anybody you can mention
Would you explain more frankly?
We wish to apologies for the delay to submit the paper
I will notify you once I get update
We have gone through all the points
I am working on it to solve the problem
We are chasing our team bring it back
Need your special attention to get best possible result
Please keep secret since this data is very confidential
Tomorrow is our public holiday therefore we will able to send goods the day after tomorrow
Would you please share your comments once reviewed
Allow me to jump in
Allow me to write here
Let me know you by tomorrow
Sorry for inconvenience, resend due to typo mistake
Can you write more details about this?
Please acknowledge after receiving this email
I would be glad if you read this message
We are waiting for your quick feedback for this issues
I am interested to know about your company, hopefully we will be able to build up long term business relationship.
Written by
A.M. Amirul Islam (Washim)
Phone: +8801929643301
E-mail: [email protected]
If you like this article please do not forget to share on facebook and put your valuable comment.