Operation Breakdown, SMV and Layout of Jogger Manufacturing Process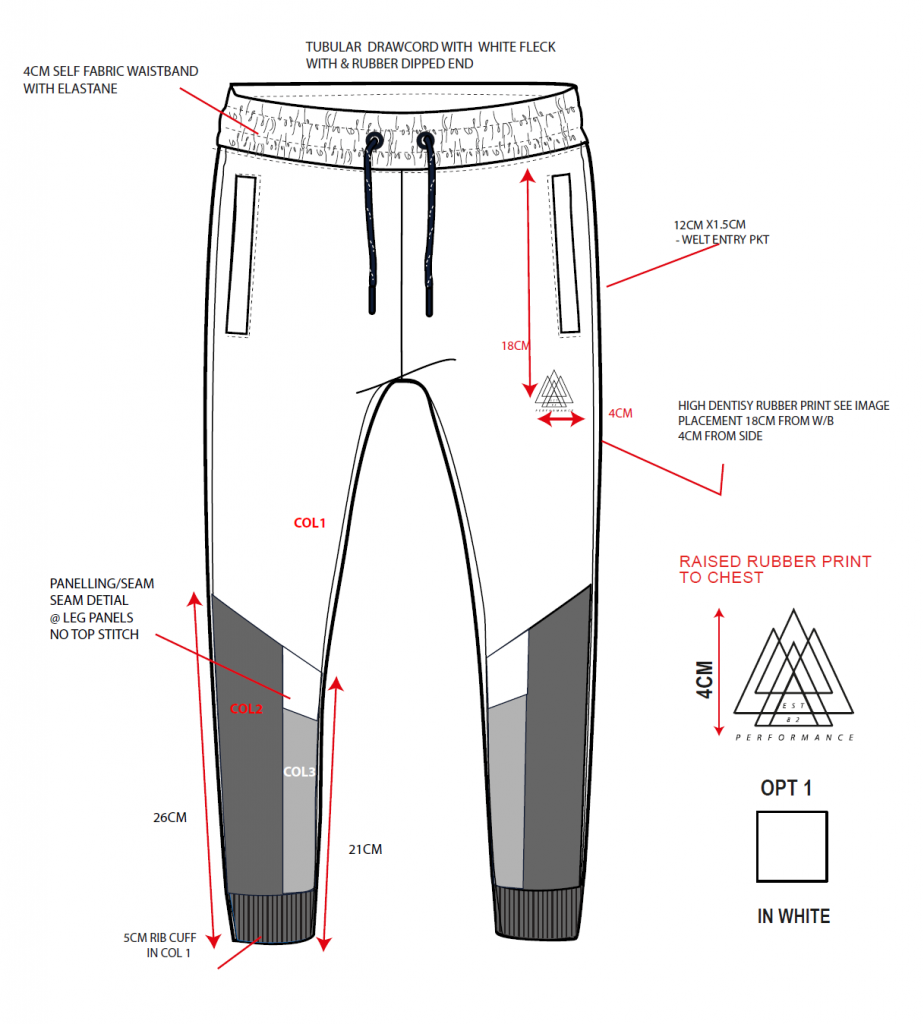 A jogger is a casual bottom item; Welt pocket is an inside pocket with bone covered in the mouth. Here given all operation list sequence wise of jogger manufacturing. Here jogger total SMV is 19.61, 72 manpower required.
This Operation Breakdown is done by LOGIC ERP software, used to prepare operation bulletin & m/c layout & others departmental jobs as well.  There is a data bank, style SMV analysis, machine layout & operation balancing. This LOGIC ERP database can be linked with other software & web for different uses. 

| | | | | | | | | |
| --- | --- | --- | --- | --- | --- | --- | --- | --- |
| Seq. No | Body Part | Operation | Resource | SMV | Target (100%) | Cycle Time(s) | Theoretical MP | Layout MP |
| 1 | Front Part | Front leg panel attach | 4T OL Auto | 1.44 | 42 | 86.4 | 5.33 | 5 |
| 2 | Neck | Match n Back panel attach | 4T OL Auto | 1.44 | 42 | 86.4 | 5.33 | 5 |
| 3 | Front Part | Front Rise join | 4T OL Auto | 0.3 | 200 | 18 | 1.11 | 1 |
| 4 | Back Part | Back rise join | 4T OL Auto | 0.3 | 200 | 18 | 1.11 | 1 |
| 5 | Pocketing | Pocket position mark | Assistant Operator | 0.32 | 188 | 19.2 | 1.19 | 1 |
| 6 | Pocketing | Press welt with fusing paper n mark | Sewing Iron | 0.48 | 125 | 28.8 | 1.78 | 2 |
| 7 | Pocketing | Pocket welts attach | SNL Auto | 0.56 | 107 | 33.6 | 2.07 | 2 |
| 8 | Pocketing | Pocket liner attach behind welt | SNL Auto | 0.56 | 107 | 33.6 | 2.07 | 2 |
| 9 | Pocketing | Cut pocket mouth n form fishtail | Assistant Operator | 0.7 | 86 | 42 | 2.59 | 2 |
| 10 | Pocketing | Welt edge neaten | 4T OL Auto | 0.5 | 120 | 30 | 1.85 | 2 |
| 11 | Pocketing | Secure fishtails | SNL Auto | 0.72 | 83 | 43.2 | 2.67 | 2.25 |
| 12 | Pocketing | Topstitch pocket welts with corner | SNL Auto | 0.84 | 71 | 50.4 | 3.11 | 2.75 |
| 13 | Pocketing | Pocket bag attach | 4T OL Auto | 0.6 | 100 | 36 | 2.22 | 2 |
| 14 | Pocketing | Secure pocket bags OL seam | SNL Auto | 0.4 | 150 | 24 | 1.48 | 1.5 |
| 15 | Pocketing | Pocket bag tack at side n waist | SNL Auto | 0.48 | 125 | 28.8 | 1.78 | 2 |
| 16 | Assembly | Front n back part sticker match | Assistant Operator | 0.28 | 214 | 16.8 | 1.04 | 1 |
| 17 | Assembly | Side mark n tack | SNL Auto | 0.56 | 107 | 33.6 | 2.07 | 2 |
| 18 | Assembly | Sideseam join | 4T OL Auto | 0.76 | 79 | 45.6 | 2.81 | 3 |
| 19 | Assembly | Inseam join | 4T OL Auto | 0.64 | 94 | 38.4 | 2.37 | 2 |
| 20 | Assembly | Secure crotch point | BT | 0.18 | 333 | 10.8 | 0.67 | 1 |
| 21 | Assembly | Elastic press and cut to length | Sewing Iron | 0.2 | 300 | 12 | 0.74 | 1 |
| 22 | Assembly | Elastic join as a circle n mark | DNL Lock Switch Auto | 0.3 | 200 | 18 | 1.11 | 1 |
| 23 | Waist Belt | Waist band join as circle | SNDL Edg Cutter | 0.26 | 231 | 15.6 | 0.96 | 1 |
| 24 | Waist Belt | Mark n fusing attach | Sewing Iron | 0.28 | 214 | 16.8 | 1.04 | 1 |
| 25 | Waist Belt | Mark n form holes at waist band | BH Auto | 0.35 | 171 | 21 | 1.3 | 1 |
| 26 | Waist Belt | Elastic tack at waistbelt | SNL Auto | 0.48 | 125 | 28.8 | 1.78 | 2 |
| 27 | Waist Belt | Waist band topstitch form channel | KNS | 0.5 | 120 | 30 | 1.85 | 2 |
| 28 | Waist Belt | WB lower edge close n mark | SNL[Chain STS] | 0.45 | 133 | 27 | 1.67 | 2 |
| 29 | Waist Belt | Attach waist band to body | 4T OL Auto | 0.48 | 125 | 28.8 | 1.78 | 2 |
| 30 | Assembly | Care label make | SNL Auto | 0.24 | 250 | 14.4 | 0.89 | 1 |
| 31 | Assembly | Label attach at back waist | SNL Auto | 0.4 | 150 | 24 | 1.48 | 1.5 |
| 32 | Assembly | Loop measure cut n attach at inside waist | SNL Auto | 0.28 | 214 | 16.8 | 1.04 | 1 |
| 33 | Cuff | Cuff join as a circleX2 | SNL Auto | 0.28 | 214 | 16.8 | 1.04 | 1 |
| 34 | Cuff | Cuff fold into half | Assistant Operator | 0.24 | 250 | 14.4 | 0.89 | 1 |
| 35 | Cuff | Cuff attach at leg opening | 4T OL Auto | 0.5 | 120 | 30 | 1.85 | 2 |
| 36 | Assembly | Sticker remove n GMTs turn | Assistant Operator | 0.26 | 231 | 15.6 | 0.96 | 1 |
| 37 | Waist Belt | Waist band topstitch | 1NDL FL | 0.46 | 130 | 27.6 | 1.7 | 2 |
| 38 | Pocketing | Secure Pocket corners | BT | 0.48 | 125 | 28.8 | 1.78 | 2 |
| 39 | Assembly | Drawstring insert through the waist channel | Assistant Operator | 0.3 | 200 | 18 | 1.11 | 1 |
| 40 | Waist Belt | Secure tie at CB waist band | BT | 0.18 | 333 | 10.8 | 0.67 | 1 |
| 41 | Assembly | Drawstring end knot make | Assistant Operator | 0.28 | 214 | 16.8 | 1.04 | 1 |
| 42 | Assembly | Thread trim | Assistant Operator | 0.35 | 171 | 21 | 1.3 | 1 |
|  – |  – |  – | Total | 19.6 |  – |  – | 72.63 | 72 |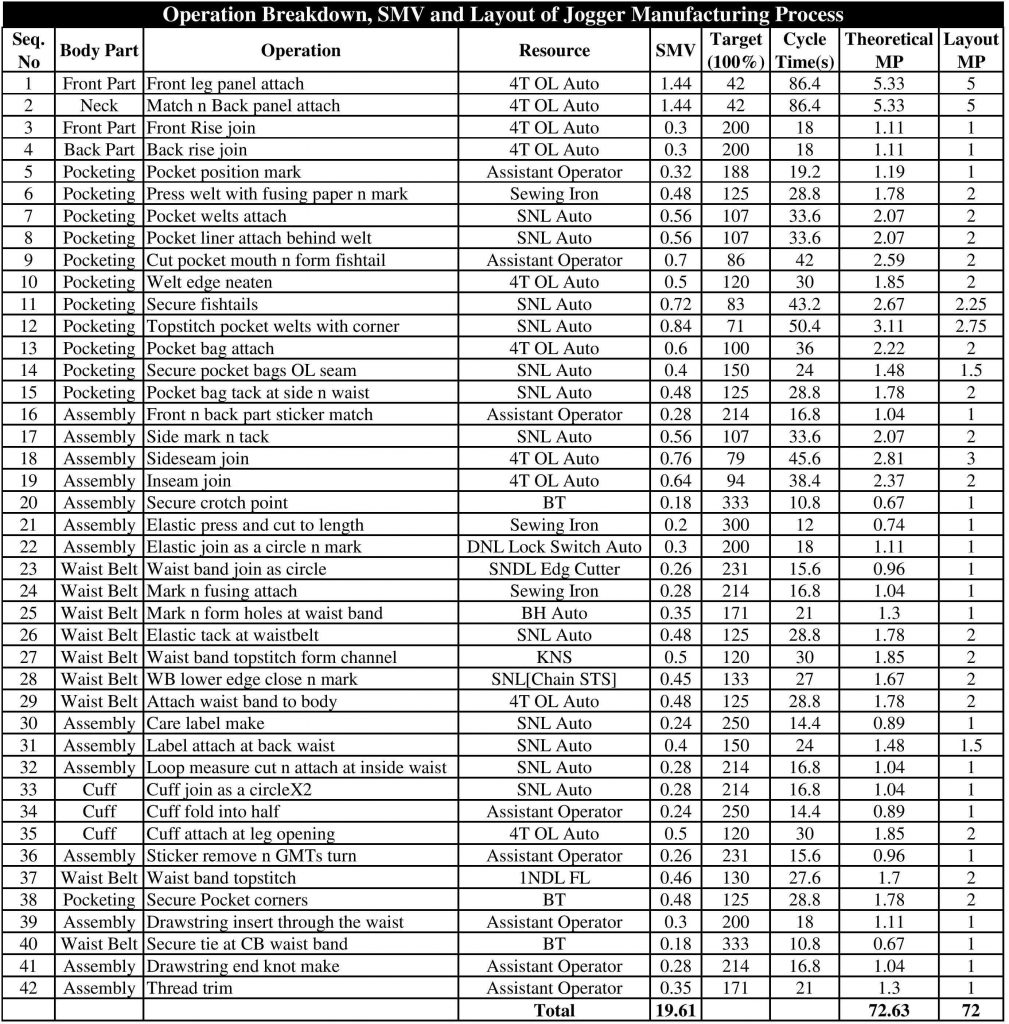 SMV Summary of Jogger
| | |
| --- | --- |
| Sewing Helper | 3.69 |
| Sewing Machine | 15.92 |
| Sewing QI | 0 |
| Finishing I/M | 0 |
| Finishing QI | 0 |
| Poly Helper | 0 |
| Packing | 0 |
| Hand Tag | 0 |
| Total | 19.61 |
Man Power Summary of Jogger
| | |
| --- | --- |
| Sewing Helper | 13 |
| Sewing Machine | 59 |
| Sewing QI | 0 |
| Finishing I/M | 0 |
| Finishing QI | 0 |
| Poly Helper | 0 |
| Packing | 0 |
| Hand Tag | 0 |
| Total | 72 |
Machine Summary of Jogger
| | |
| --- | --- |
| 4T OL Auto | 25 |
| SNL Auto | 21 |
| BT | 4 |
| DNL Lock Switch Auto | 1 |
| SNDL Edg Cutter | 1 |
| BH Auto | 1 |
| KNS | 2 |
| SNL[Chain STS] | 2 |
| 1NDL FL | 2 |
| Total | 59 |

Written by
Rabin Saha
PGD in Textile Management
BSc. in Textile Engineering
Email: [email protected]
LinkedIn: Rabin Saha