Quality Improvement Techniques in Apparel Industry or Garments Industry
As quality is one of the key success factors, managers always try to devote their effort for improving the quality of garments. In this article we will show you how quality improvement techniques in apparel industry can be ensured.  Not only productivity but also quality improvement getting most importance in apparel industry. Without ensuring quality you should not make shipment of your goods to the customer's destination. We have seen that sometimes our valuable customers reject the goods or hang the payment because of low quality goods which is not in accordance with the specification. Although there is continuous efforts is given but there may have some problem which is not correctable/repairable. So it would be a right decision to take all precautionary measures to avoid unexpected fault of your garments and ensure right quality.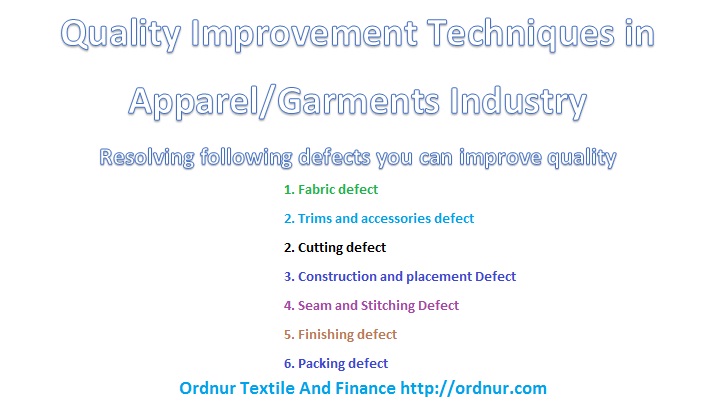 Garments Quality depends on these Quality Factors
If you want to ensure quality and continuous improvement then you have to avoid the following defects of the garments.
Fabric defect
Trims and accessories defect
Cutting defect
Construction and placement Defect
Seam and Stitching Defect
Finishing defect
Packing defect
Let's have a short discussion about these quality factors/matters
Fabric Defect
Fabric cost is at least 60% out of total garment Cost. Apparel Industry inspect fabric roll for quality matter. If your fabric roll fail in inspection you should return to fabric supplier and replace with the quality one. If your finished garment contains fabric defect, you are the one who will be responsible for that not fabric supplier.
Trims and Accessories Defect
Apparel industry should check all trims and accessories after in housed. If they found any problem, they should return to suppliers for replacement.
Cutting Defect
As per Running shade and Selvage report, marker will make for bulk cutting. Otherwise garments will contain part shading. All cut components should match with marker.
Construction and Placement Defect
You will sewing garments as per buyer's approved sample for bulk production. All stitching of every process should same as sample. Different parts placement should accurate. Up-down is not acceptable.
Seam and Stitching Defect
All sewing machine should fit for sewing with accurate tension. Otherwise there are possibilities of skip stitches, puckering. Garments should be clear of some other stitching defects like: broken stitch, over stitch, down stitch, jam stitch, and joint stitch.
Finishing Defect
After pressing Garments there should be no crease mark, puckering. Keeping good appearance is also necessary for garments.
Packing Defect
There are zero tolerance any types of packing defect. Incorrect size, incorrect PO, incorrect quantity, folding defect include in packing defect. You should be careful about these defects.
Inspection
You should check your quality of 100% garments in finishing. If repairable of defective garments, you should repair it quickly as you can. Before final inspection, you can do pre-final or shadow inspection to see quality of your packed garments. If you found lots of defect in packed garments, you should re-check all garments and take effective measures to resolve the quality problem of garments.
Finally quality improvement is a continuous process that's why you have to give your effort continuously and this will be possible through proper monitoring every steps of garments manufacturing. If you can ensure monitoring and take immediate action to resolve the defects then obviously you product quality will be improved.
Written by
A.M. Amirul Islam (Washim)
E-mail: [email protected]
If you like this article please do not forget to share on facebook and put your valuable comment.