Major Social, Technological and Environmental Contributions of RMG Sector in Bangladesh
RMG sector is one of the important sector which has so many contributions in social, technological & environmental development of Bangladesh. In this article, some major social, technological & environmental contributions of RMG sector is described. It will be helpful to know the condition, impact, ways of development, future scopes of RMG sector in our country for various development.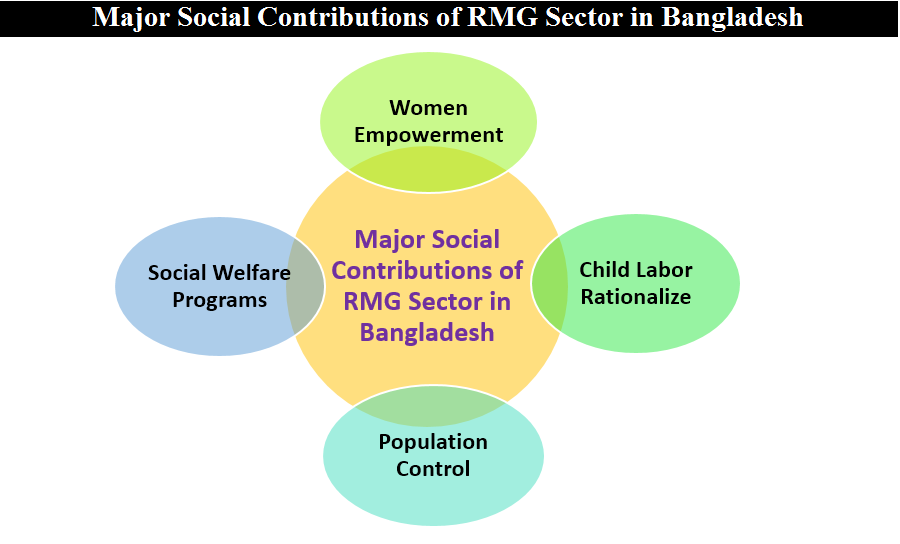 Women Empowerment
Once upon a time woman were likely to spend inhouse activities like child upbringing, cooking, taking care of relatives etc. No-a-days from educated to uneducated women, this thinking has been changes a lot. This contribution mostly goes to RMG sector. According to a survey of Center for Policy Dialogue(CPD), released on Mar'18, among garment worker 60.8% are female & 39.20% are male. The survey was conducted on 2270workeers in 193 factories in Dhaka, Gazipur, Narayanganj & Chottogram. These large portions of women are mostly less or uneducated. Rather than this, they are likely to contribute family income. Women earn to make better their livelihood, pay children educational expenses, make savings and overall, they are not anymore, a burden for their family. In apparel sector there is a lot of work scope for women. They work in quality section, sewing section & finishing section mostly.
RMG sector provides adequate safety, payments, rest breaks, medical facility, insurance facility, motherhood vacation, children scholarship programs etc. for women workers. According to a report published in The Daily Star in Jul'18, 2018, many female workers leading trade unions in various factories. Some female worker is divorced of single parent & still managing their families very well. In many cases it has seen that their children upbringing is so well that they become highly educated. Some women then pursuing their career in their own tailor shop, they become entrepreneur!
Not only less educated or uneducated women, but educated women are also most likely to work in this sector. There are so many Industrial Engineer & Textile Engineer in recent & there is a significant number of women in them. They are giving their best for the development of the RMG sector. They are working in Industrial engineering department, Planning department, research & development department, merchandising department, technical department, human resource department, Training & co-ordination sections etc. In some case they are best choices for employer as they have good analytical abilities, manpower handling capabilities, dealing capabilities, representation capabilities etc. Some of them are work in production sector equally with man & flourishes this sector with their knowledge & capabilities. Working women are blessing both for their family & organization. Many of them are indirectly involved in RMG sector with their research work, social work and so on.
In some cases, female worker is most preferred for their cool-headed decision rather than male. For example, in garments quality section it needs smooth observation, in sewing it needs immense accuracy or in costing or merchandising it needs precision or dealing capabilities. These types of qualification are born nature of women hence they are major choice for these section now-a-days. There is considerable presence of foreign professionals in different section including merchandising (20.30%), Production planning (37.30%), sewing, knitting, washing, quality, industrial engineering, research & innovation, supply chain. Along with continuous development of RMG sector hopefully very soon these places will be taken by local expertise & there will be remarkable number of women also.
Women empowerment in RMG become an example for foreign country like India, China, Myanmar, Vietnam, Ethiopia, Jordan etc. These country apparel experts are interested to hire women worker as well as professionals. Women from RMG sector sometimes leads a community or group to achieve their demands. They are twinkling example of how to start from zero & how to be valuable star in their own life. Women struggles beside man to earn livelihood & supporting husbands also. Educated women entering garments sector in different fields & they are not likely interested in bank job or teaching professions as previous. They started thinking out of box. For example, Swapna Bhowmik, country manager of M&S, was the first Bangladeshi to become country manager of the British retailer. Women are equally a great part of management system in garments industry.
Child Labor Rationalize
The Harkin Bill placed at the US Senate entitled "The Child Labor Deterrence Act of 1993" which called for the elimination of child labor in the export-oriented manufacturing and mining industries. After that in our country so many garment industries stop hiring child labor & arrange a better life for them some of the organizations provide monetary help, some set up training schools, some got help from the government. International Labor Organization, BGMEA, UNICEF started so many projects to stop child labor. According to the Bangladesh Bureau of Statistics report, in 2003 there were 42.40 million children of age group 5-17 was working directly or indirectly involved in this sector. Out of those 35.10 million were age group of 5-14 & 7.30 million were 15-17 age group. Out of the total estimated child population aged 5-17 years, about 22.70 million were boys & 19.70 million girls. There were so many reasons like poverty, a family force for income, avoiding early marriage, not interested in study etc. In 1995, a project was initiated by BGMEA along with ILO and UNICEF based on a Memorandum of Understanding (MOU). The key elements were a fact-finding survey to determine the extent of child labor in the garment industry, education programme establishment, monitoring, and verification system establishment, stipend income compensation (300 Taka at that time). BGMEA spent mostly 600,000 $ for the project. There was positive impact on child labor & gradually its number decreased. Now there are so many national & international organizations who are working in this sector to eliminate child labor. Apparel sector is now aware of this section & strictly avoid child labor force. So many social & audit organizations are working for the proper implementation of labor laws in Bangladesh.
Population Control
Population problem is the major problem for a developing country like Bangladesh. Employment opportunities for women is creating positive impact on the family planning and population control of a country. Working women are interested to family planning & keeping small family. They feel the necessity of proper upbringing for their children hence they plan for one or two children. Early age marriage also reduces because of women empowerment. Average age at marriage for girls working in RMG factories tend to be higher than the national average. In this regard government takes so many family planning programs, builds hospitals & clinics, free supply of family planning facilities & products and some of private organizations also working several projects.
Social Welfare Programs
There are several projects to keep worker rights as per ILO rules or local rules. Some of those activities are:
BGMEA Healthcare Activities for Workers: Establishing healthcare & medical facilities. Most prominent was 150-bed modern hospital at Mirpur, Dhaka, which is equipped with burn and emergency units. Approximately 10.96 core spent for the project.
BGMEA-UNFPA-GOB Project: In 1998 & 2003-2005 there were two mixed projects of United Nations Population Fund (UNFPA) & BGMEA, for family welfare & reproductive health education among garments worker. In last project BGMEA provided 430000$ & UNFPA provided 290000$ for this project to be successful.
Workers' Health Check-up Project: BGMEA & BRAC provide health check-up facility based on charged premium health care facility. Up to 9000 workers were provided this facility.
Non-formal educational programme: Under this component of the Child Labor Elimination Project, 8200 students were enrolled in 336 schools, run by two local NGOs, Bangladesh Rural Advancement Committee (BRAC) and Gono Shahajya Sangstha (GSS). There are so many programs currently running, in Dhaka there is 92 schools.
Earn and Learn Programme: There are so many programs under this banner. BGMEA, BKMEA, BRAC, WORLD BANK, Bangladesh Finance ministry runs so many programmes. Skills for Employment Investment Program(SEIP) is one most popular training program for youth that can is very helpful to create skillful employee.
Organizational & self-safety program: There is mutual program of Bangladesh Fire Service and Civil Defense Department along with BGMEA & BKMEA to train garment sector employee & worker to train about fire &firefighting equipment, awareness building on fire prevention, first aid, proper electric wiring and evacuation facilities.
Village garment project: Along with the project of Government of people's republic of Bangladesh to convert village in city, BGMEA wants to set up garments & apparel infrastructure in those area.
Major Technological & Environmental Contributions of RMG Sector in Bangladesh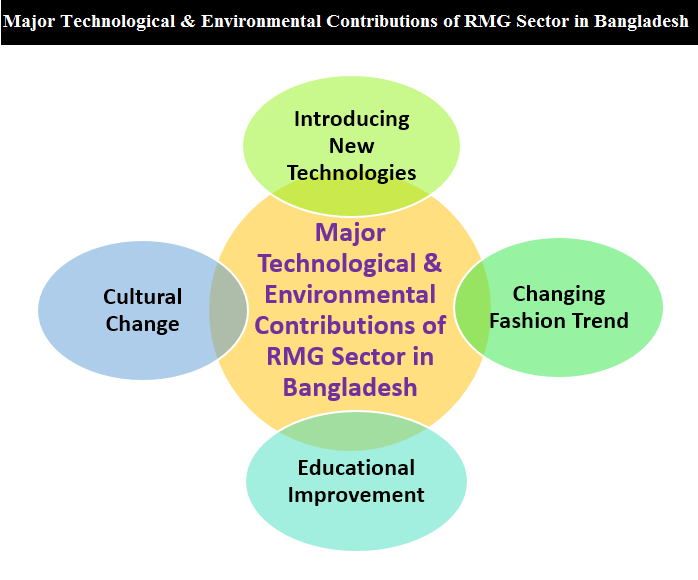 Introducing New Technologies
With the improvements & developments of modern technology, our RMG sector also developing. People are focusing on adopt new technologies, machines, methods, materials etc. From yarn making to logistics services people are using modern methods & technologies to make it quicker, accurate & user friendly as well as quality full. Now we can produce various types & parameters of fabric, digital & rotary printing, weaving more complex fabrics, producing in house trims & accessories, finish fabrics as per buyer requirements, sewing fancy items, wrinkle free items etc.
In modern industrial revolution of methods & technology we are planning for every minute capacity, doing forecasting, inventory controlling, material requirement planning, managing supply chain flow, follow total productive maintenance (TPM), total quality management (TQM), brainstorming session, automation, standardization, innovation etc. This trend is running in other manufacturing sections also.
Changing Fashion Trend
Fashion trend also change with continuous improvement of this sector. People are more likely to wear fusion dresses. Women want dresses, saris, salwar kameez, tops with a mix trend of desi & western. Now-a-days fashion designers are in a fix to make custom made products. Many national & international fashion houses established in Bangladesh to satisfy customer demand. Men & women want classy styles like renowned international brands. There is so many first-class grade replica shops also found for this demand. People following foreign models & hence trying to copy their outfits. It's a positive cultural change in one sense. But we should not let go our own culture & try to modify them in a dignified way so that our culture doesn't get harm.
Educational Improvement
With growing textile sector, there are educational changes also. People are interested to higher education in Textile technology or Textile engineering, Industrial & production engineering, fashion designing etc. Along with public universities there are so many private universities which make resourceful graduates. After completing graduation, they also take so many professional trainings, PGD degrees etc. So RMG sector has a great impact on educational development of our country.
Cultural Change
Though small, but there is cultural change also. Some foreigners come to our country, marry here & get children. People also like to have international foods. In Bangladesh so many Srilankans, Pakistani, Indian, Vietnami, philipinos, Japanese, Americans lives because of their job sector in RMG. In some cases, their food habits also influencing us, their cultural beliefs influencing us & fusion occurs here also in a small extent.
Written by
Sharmin Akther Diba
Industrial & Production Engineer
Rajshahi University of Engineering & Technology
Email: [email protected]
LinkedIn: Sharmin Akther Diba